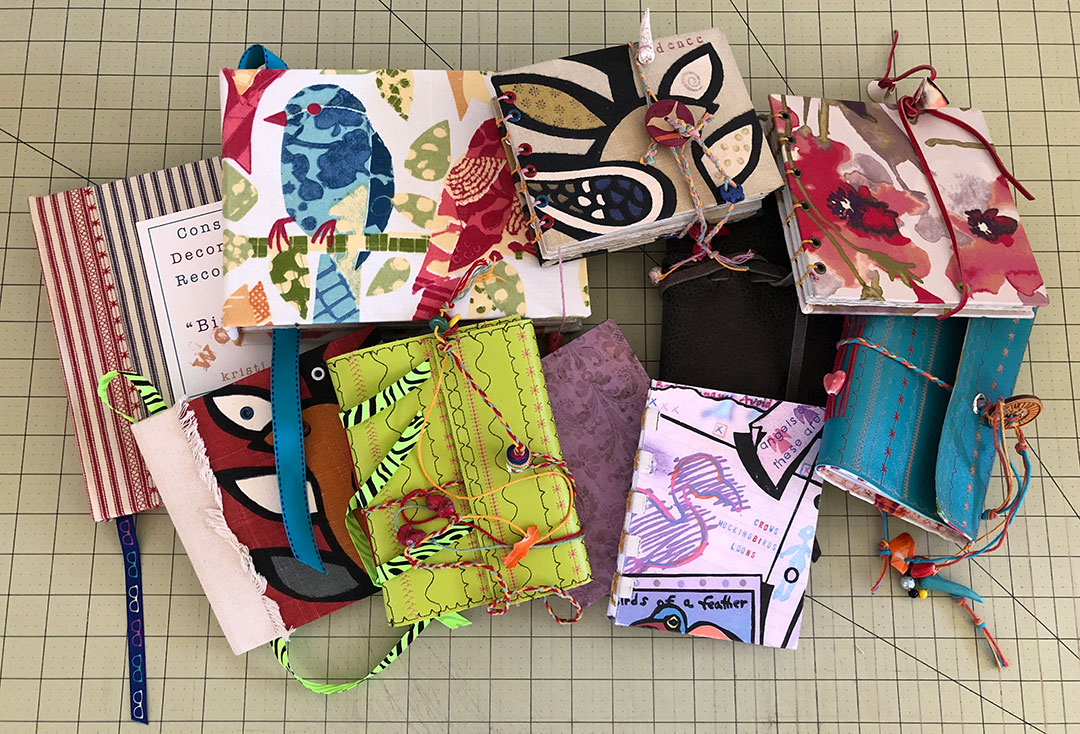 Handmade Books Made Easy
Here are just a few of the many choices you have for creating or buying unique handmade books, journals, sketchbooks and boxes.
Sewn Bindings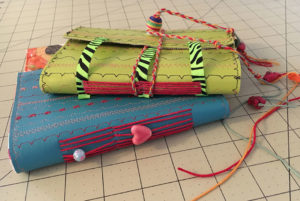 This clean and simple (unless you decide to dress it up :)) binding stitch is easy to master and has the advantage of allowing your book to lie flat when it is open. This technique allows for lots of creative ways to add bling to your books!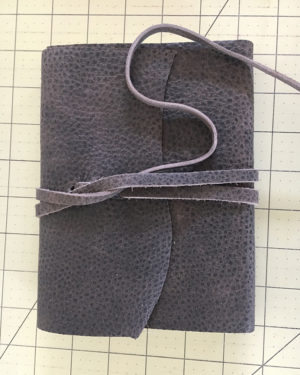 You will need to create a sewn textblock for this journal and use a bit of glue, but the binding is very simple and organic. You can use leather, or faux leather (see below), to create the cover.
Just like the leather wrapped journal, but you can make this out of lots of different fun fake leathers lined with decorative material.


There are many versions of the Coptic binding, or Coptic stitch. This is an ancient binding technique used by the Copts in Egypt as early as the 2nd century AD and is characterized by sections or signatures attached to each other with a series of linked chain stitches across the spine. One of its many advantages is that it allows the book to lie flat when opened. Find more about Coptic binding and how to create a book using this technique here.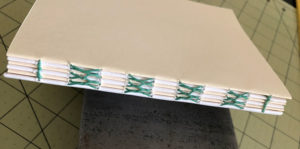 Like the Coptic stitch, the French Link Stitch is another exposed spine binding. This book is created without a cover but once all of the signatures are combined a cover can be added.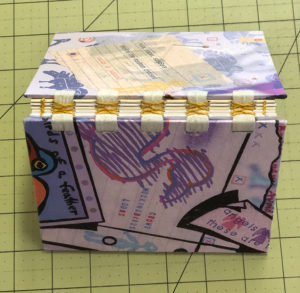 This binding uses the same French Link stitch shown above, but adds a fun twist with a hardcover joined with tapes that are sewn in as part of the binding.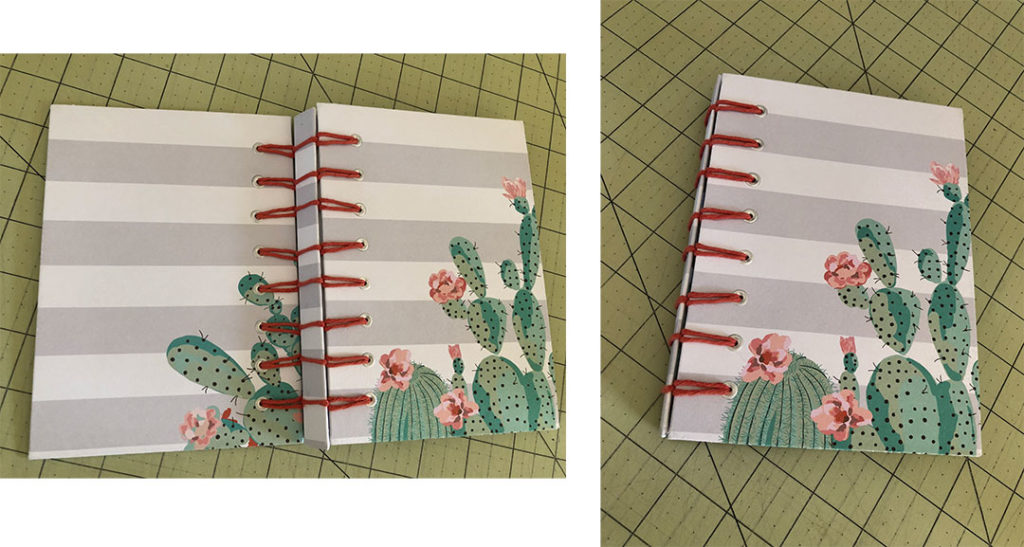 This lovely and intricate-looking binding technique is actually quite simple. The book cover is woven together first and then the signatures are attached one at a time. An added bonus is that this book will lie flat when open.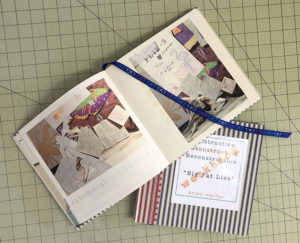 This is the most common type of bookbinding, the type of binding that you would see on most hardbound commercial books. The pages consist of folded pieces of paper, sewn together into signatures. Groups of signatures are glued together to create a text block. This text block is then attached to, or encased in, a cardboard covering or 'case' that has been covered with decorative cloth, paper or leather. Case bound books do not lie completely flat when opened.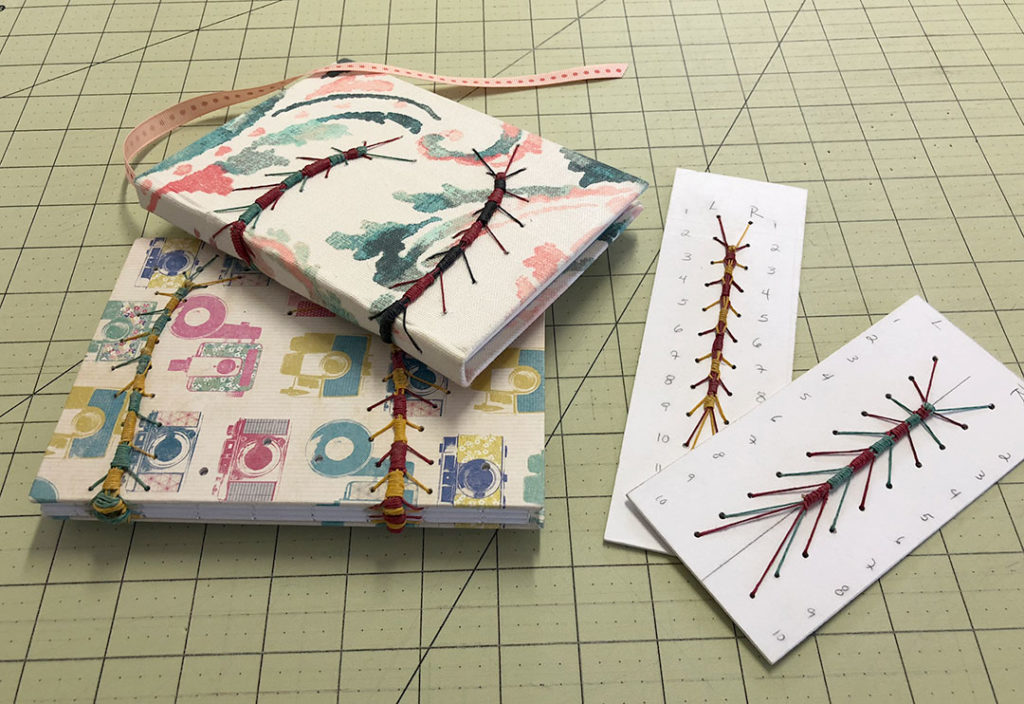 You can use this unique and fun stitch in a purely decorative way or as the actual binding structure. This stitch is always an attention grabber.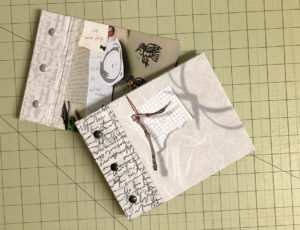 This type of construction has a couple of great advantages, particularly if you want to use this book as a scrapbook, or maybe a travel journal where you are saving ephemera like ticket stubs, or play broadsides. You can use spacers to add space between the pages for bulky items, and you can freely add and subtract pages by simply unscrewing the posts.
One of the simplest sewn bindings, this consists of several pages of folded sheets (called a folio if a single folded page or signatures if the pages are grouped together) sewn together with a three, four or five-hole stitch.
Japanese Stab Binding
**Coming Soon
This form of binding does not use signatures or folios, just a simple stack of pages. So, you can use a wide variety of papers, taking advantage of different textures, designs, weights and colors. There are several different versions of the Japanese Stab Stitch – four eye binding, hemp leaf binding, noble binding and tortoise shell binding. One disadvantage of Japanese Stab Binding is that the pages do no lie flat when the book is open. Since the pages already don't lie flat you can sew around the head and tail of the spine, which you wouldn't do with other binding methods if you wanted a book to lie flat when opened.
Crossed-Ribbon Binding
A more decorative, and perhaps more modern version of Japanese Stab Binding that can be used with hard or soft covers. The materials and preparation (cutting of pages and covers) are the same as for Japanese Stab Binding.
Boxes and Slipcases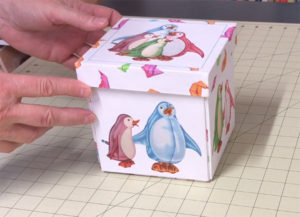 While technically neither a book nor a box, the explosion box lends itself to many creative uses, including containing book-like elements. This particular version is made with bookboard and is much more substantial and sophisticated than the usual cardstock explosion box.
A slipcase is a classy and classic way to protect your handmade books.

This neat little folding box makes a great container for a special book or set of books. It's also perfect as a portfolio box, holding separate images. The fact that one side is completely open once you open it up makes it very easy to get items in and out.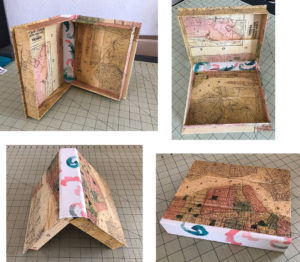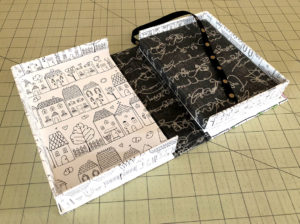 You can use this classic folio for a wide variety of tasks, from holding drawings and prints, showing off at a job interview or holding your wedding vows during your wedding ceremony!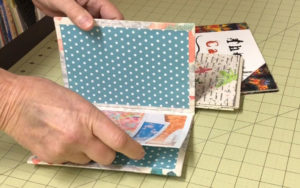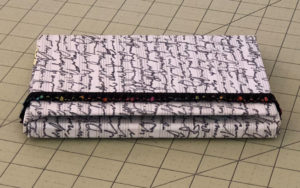 Make a more sophisticated version of the traditional portfolio cover. This is a great additional way to show off your creativity when showing off your portfolio.

Folded and Glued Books
A still image doesn't do this fun book justice. It feels like a magic trick once it's all folded together. This is a great kid's project because the only supplies you need are paper, scissors and a glue stick, but you can also make some very creative artist books from this simple form.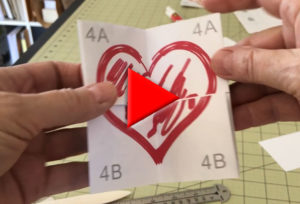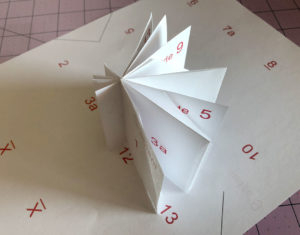 Another fun kid's project. You can create a fairly complex book using nothing but paper, scissors and glue.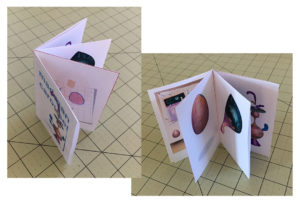 This is a very simple book to create that needs no sewing or gluing. A piece of paper and a pair of scissors are all it takes. This is a great book to make as a kid's project since it doesn't take any special equipment or skill.
The binding of this clever and unique book is constructed using simple kitchen skewers.
Concertina/Accordion Folds
Created with continuous folds of paper, without the need for sewing or other tools or materials.
Carousel Book
This has a fairly complicated construction but the end result is lovely and allows you to view the contents like a traditional book or you can view it in a circular manner. This book benefits from the use of many different papers.
Dragon Book
Easy to make and a fun project for kids, all you need for this book are a sheet of paper, pair of scissors, glue stick and your imagination.
Also called the Snake Book, this is a relatively easy and quick book to make. If you are going to use pre-printed pages it is a good idea to create a mock-up first, and tape rather than glue the pages together. Then you can organize the book, number the pages, etc., take the book back apart and see what goes where. The mock-up is particularly important for this book type as some of the glued pages cover up other pages. Once you have folded and glued the pages you can add covered boards to the outside to give it a hard cover.
Flag Book
An interesting book that utilizes cutting and gluing and acts almost like a pop-up book. The 'flags' can be any variety of shapes.
Miscellaneous
Popup Books
Make your own custom book out of an old book.